2014 Mercedes-Benz SL Class Owner's Manual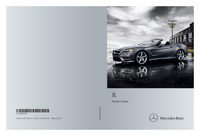 The difference of this beast is the lightweight body. At 85% it consists of aluminum, and the body shows high results in crash tests. Now it takes less than 20 seconds to fold the roof.
The interior has a good set of functions, both for sports and for normal city driving. The central console has huge deflectors, touch screen display with modern navigation. The dashboard is designed simply, but with Mercedes detailing. The leather interior no longer surprises anyone, but these seats are really quality trimmed and have sporty support and additional back protection. In this model, the drive and gearshift panels have been changed. You can install a four-wheel drive system and air suspension for an extra charge. The specialty of this model is the regular clock, located on the torpedo, it fits perfectly into the interior of the car.
We also have owner's manuals for other vehicle years:
Need help?
If you could not find the answer to your question in the owner's manual for the 2014 Mercedes-Benz SL Class car, you can write to us by clicking on the link below, please try to describe your problem in as much detail as possible.

Ask your question on the page Need Help!