2018 Mercedes-Benz GLC Coupe Owner's Manual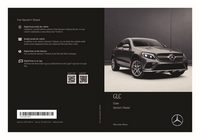 Mercedes-Benz GLC Coupe is an all-wheel drive crossover of the K2 class. The world premiere of the model took place at the New York Auto Show in March 2016.
Fans of the German brand have been waiting for the debut of the production version of the GLC Coupe exactly a year since the conceptual version of the model was shown at the Shanghai Motor Show. We waited! And, sure, they were not disappointed. Bright appearance, advanced equipment and outstanding technical characteristics – this recipe will not leave anyone indifferent.
Technically, the GLC Coupe repeats almost everything related to the related GLC, but, of course, it has some individual features. It is at least longer and lower. At the same time, the aerodynamic drag coefficient, despite the change in the shape of the body, is identical for the two cars – 0.31. But the volume of the luggage compartment was reduced from 580 to 491 liters (from 1600 to 1400 liters with the rear sofa folded). In addition, specifically for the GLC Coupe, Mercedes-Benz engineers reconfigured the Direct-Steer steering system, which resulted in a gear ratio change from 16.1:1 to 15.1:1. Of course, the coupe-like crossover is equipped with an optional Air Body Control air suspension and a full range of the most modern security systems.
The list of standard equipment of the Mercedes-Benz GLC Coupe includes 18-inch wheels, an electric trunk lid, a multimedia system, a rear-view camera, a keyless entry and start system, a light sensor, and leather interior trim.
In the engine range of the Mercedes-Benz GLC Coupe, there are eight variants of power plants at once. Standing apart among them is the hybrid, producing 320 hp. With. power and 560 Nm of torque, paired with a 7-speed "automatic" 7G-Tronic Plus. The rest of the units got a 9-speed "automatic" 9G-Tronic. The rest are diesel "fours" with 170 and 204 liters. With. (400 and 500 Nm, respectively), again the diesel version of the GLC 350d Coupe, but with 257 hp. with., the petrol version of the GLC 250 4Matic Coupe, issuing 211 "horses" and 350 Nm, the modification of the GLC 300 4Matic Coupe (245 hp), the 367-horsepower 3-liter V6 Mercedes-AMG GLC 43, as well as the most powerful of available versions – GLC 63 AMG with a 4-liter V8, issuing 510 "forces".
We also have owner's manuals for other vehicle years:
Need help?
If you could not find the answer to your question in the owner's manual for the 2018 Mercedes-Benz GLC Coupe car, you can write to us by clicking on the link below, please try to describe your problem in as much detail as possible.

Ask your question on the page Need Help!